Soulful, passionate, stirring…these are the words most often used to describe Assunta's music.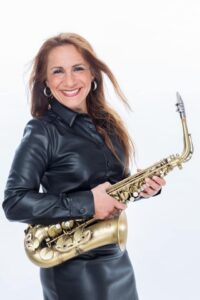 Assunta Di Pasquale started her life being rocked in a musical environment; her brothers and sisters, musicians like her, have always rejoiced their mum's heart, a musician as well.

At the age of six, Assunta started studying the piano in a Conservatory in Belgium and she was just eleven when she composed her first musical piece.

As a teenager, her wish to learn everyday more led her to attend piano studies with even further assiduity. At that time, she also started to attend classical saxophone lessons. She also studied singing at the Sambreville Conservatory.

Simultaneously, she was deeply attracted by Jazz and immediately influenced by great names such as Charlie Parker, John Coltrane, Paul Desmond, Phil Woods, Ella Fitzgerald, Al Jarreau, Stevie Wonder… Consequently, Assunta started attending jazz courses with Professor Mr. Henri Houben, a renowned jazz artist and teacher.
Assunta played the piano in NATO and has accompanied official graduation ceremonies at the Brussels American School.

She also taugh music as volunteer in therapeutic centers (Trempoline ASBL, Teen Challenge Belgium, La vie est belle ASBL). Her huge desire to see that her students may find a kind of opening out in music, fills her with joy. Her heart is oriented towards the true values of love, share, and generosity that she wants to express through music.
Composer and arranger, she plays many instruments and shows her range of talent on many occasions. She also leads and assists other musicians in song direction and arrangement.

Assunta recently graduated with a Master degree in saxophone at the «Conservatoire Royal» of Mons Belgium. She nowadays teaches saxophone in two conservatories, she conducts a wind band and teaches music history lessons. Furthermore, Assunta teaches gospel and jazz music lessons.
Assunta also works with various cultural centres and plays alone or with other musicians in different musical events, mainly in Belgium. She is filled with a strength that pushes her to constantly develop her skills in order to offer her audience the very best. Her music style is well appreciated because it contains a great deal of sensitiveness, freshness and deepness that touch a lot of people. She has now quite a large repertory since she composes and arranges a lot of pieces. This is another aspect of her career.

As songwriter, Assunta has recorded several of her songs, arranged by Marco Ciccone or Michel Herr, with musicians such as Ivan Paduart (p), Bruno Castellucci (drs), Paolo Loveri (gt), Benoît Vanderstraeten, Jacques Pili, (b.), Stefan Bracaval (flûte), Antoine Colin, Michel Paré (tp), Raphaël Robyns (tb), Osvaldo Hernandez Napoles (perc.) …